Over the past few months, several groups have been in the running to redevelop two centrally located city-owned properties in Downtown St. Pete. The first lies directly on Central Avenue at the northeast corner of 4th Street while the second sits on 2nd Avenue North between 4th Street and 5th Street. The property at Central Avenue and 4th Street is currently home to the City of St. Petersburg's Municipal Services Center (MSC), an 11-story office building which contains city services such as the planning department, code enforcement, and parking management, among others.
Among the groups in the running to redevelop the properties are a joint bid from Property Markets Group (PMG) and Feldman Equities.
Property Markets Group / Feldman Equities
Arguably the most ambitious proposal comes from Property Markets Group and Feldman Equities. The group's latest changes increase the potential intensity of the submission.
Along 2nd Avenue North the group is proposing 120,000 SF of office space to replace the existing MSC building, as well as a potential option for additional office space that would be leased to the public. The project would also feature 308 residential units, an increase from 220 units in their prior proposal, as well as ground floor retail. 20% of the residential units would be marketed as workforce housing units. This updated building increases the height by a few floors compared to the prior submission.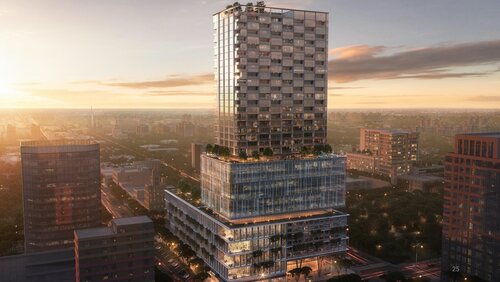 The submission makes a distinction in the separation of the structured parking, noting that both the entrances and circulation for the office and residential uses would be completely separate. This is likely a safety enhancement over the prior submission.
The group's Central Avenue proposal is largely unchanged and includes a striking 415-foot mixed-use tower with 400 residential units, 150,000 SF of Class A office space, and ground floor retail. Given the scale of the proposal, completion would not be expected until 2026.
Read the full story here.